Daniel Pino
4 Ways Automated Messages Can Help You With The Re-Opening of Your Tour Company
A few weeks ago, we were asked by a person from a Reservation System how our system is necessary today for tour operators that are starting to reopen their businesses. In our eyes, it was pretty evident, but after looking at it twice we realized we had not been explicit enough. Hence, we are releasing this short blog today on how your tour operator can take advantage of automated messaging to solve some of the challenges associated to re-opening after the COVID situation:
1) Tour operators need to reduce their costs.
It's sad, but the reality is that most operators realized early on after the pandemic crisis started that, in order to survive, they needed to cut on costs. Unfortunately, that meant for most operators, having to reduce their team. That means less people, doing almost the same amount of work there was before.
Solution: Automate your customer service.
Tour operators need to look for ways to automate some of their processes that used to be manual. One of the most time-consuming processes most operators have to deal with every day is customer service. A chatbot along with a few automated messages, can help you deal with this and reduce that time you spend by at least 31% according to our figures. Repetitive tasks like answering questions to customers, sending locations and reminders to people prior to their tour, and sending review requests after the tour had ended, are a few of the things can be all automated through TourOpp GO!
2) Tour operators need to make a viable business with less travelers.
One of the biggest and most challenging questions this industry is facing is: "Even if I reopen, how I am supposed to survive as a business if I don't make enough revenue to pay the most basic costs?".
Most operators are now realizing that it is hard to make ends meet at a 30% capacity. The truth is that, the industry won't see the volume of travelers of 2019 until at least 2022, experts predict.
As in any other business, if you can't control your demand, you need to find ways of making more revenue out of every booking. That being said, this is probably not the best time to raise your prices either.
Solution: Cross-selling and Up-selling
According to Arival, travelers on average are booking 4 activities per trip. So ask yourself, how many of those are they booking with you? You want to make sure that people know what you're offering ahead of time by suggesting them activities that can complement their experience in-destination.
Alternatively, if you are a food operator for example, and you don't usually expect customers to book two activities with you, you can opt to create "premium" experiences to be offered as an up-sell before their tour. Maybe you can include a premium beer and a bigger dessert for $10 USD more?
We've even seen operators get creative here and partner with other local venues to offer customers suggestions on where to have lunch, dinner or watch a theatre show and grab a commission for those bookings as well.
Best of all? All of the above can be automated through automatic suggestions crafted specifically for your customer, depending on what they have booked.
3) Tour operators need to inform their customers about their health & safety protocols.
As if tour operators didn't have enough to do already, now there's a universe of health & safety protocols that your customers must know about and comply with. How do you go about informing your customers about these protocols with all the layers that exist between you and your customers? Do you rely on the OTA on informing that to them? Do you contact them personally sending them an "extranet message" or an individual email (if you get their email)? How much time is that going to consume?
Solution: Automatic message prior to their tour
Inform your customers about these protocols through the apps they already use, WhatsApp & SMS
Connect your booking system to TourOpp GO! and regardless of where your customers book, we can send them an automatic message with all information necessary, one day or one week before their tour, up to you.
4) Tour operators need to offer contactless payment options for tour guides' tips.
If cash was in a downward popularity trend among travelers already before the pandemic, believe us, after COVID no one will bring cash anymore. However, there's a long tradition in the tours & activities industry to give tips to tour guides who do a great job and provide a experience to their guests. So what can tour operators do to bridge that gap?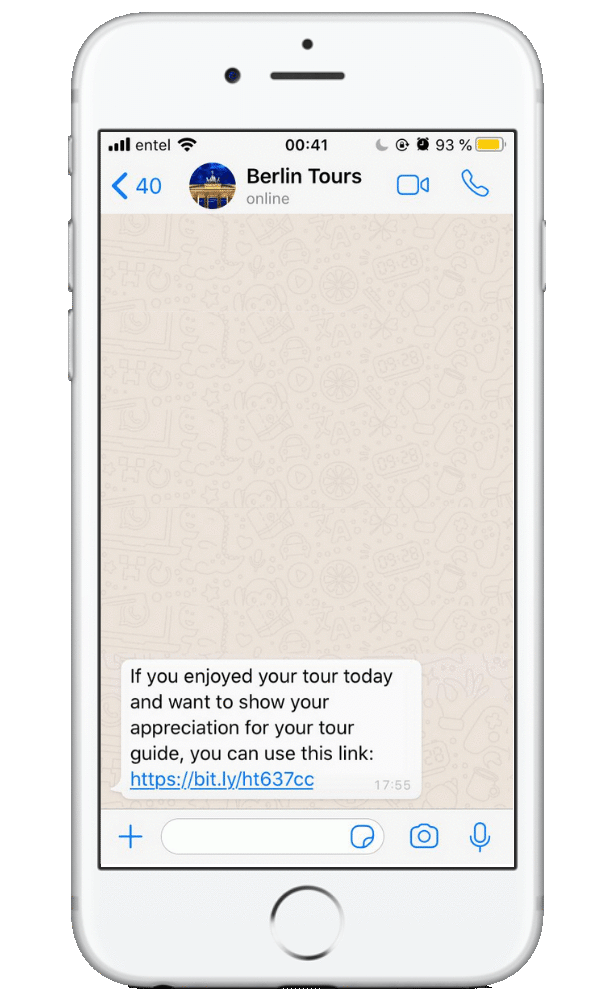 Solution: Send a Payment Link
Send your customers a message DURING their tour with a link where they can provide a tip to their tour guide using their credit card or PayPal.
If you need help we can build it for you, but most of the times you will need a payment gateway - like Stripe or PayPal - to do this. However, if you have that, it's easier than you think. Most operators use a simple form, where customers choose their tour guide among a list of names, input the amount, and then just proceed with their payment.
CONCLUSION: This article could go on forever talking about the need there is today, more than ever, to generate more reviews, to get more referrals, to interact with your customers on social media, to have better content to upload to your website, and how automated messaging can help you with that. However, the point here is that tour operators need to really look at what this new reality will require for them and find a way to automate those tasks as there are probably less resources, and not more, to work on them.
If you want to see how we can implement these four automations in your business, along with a few other things TourOpp GO! can do for you, feel free to schedule a demo here.